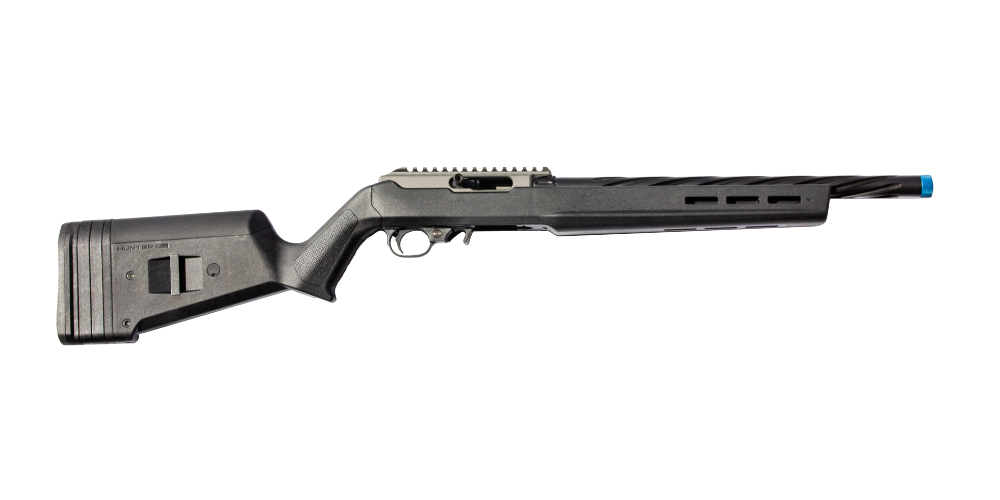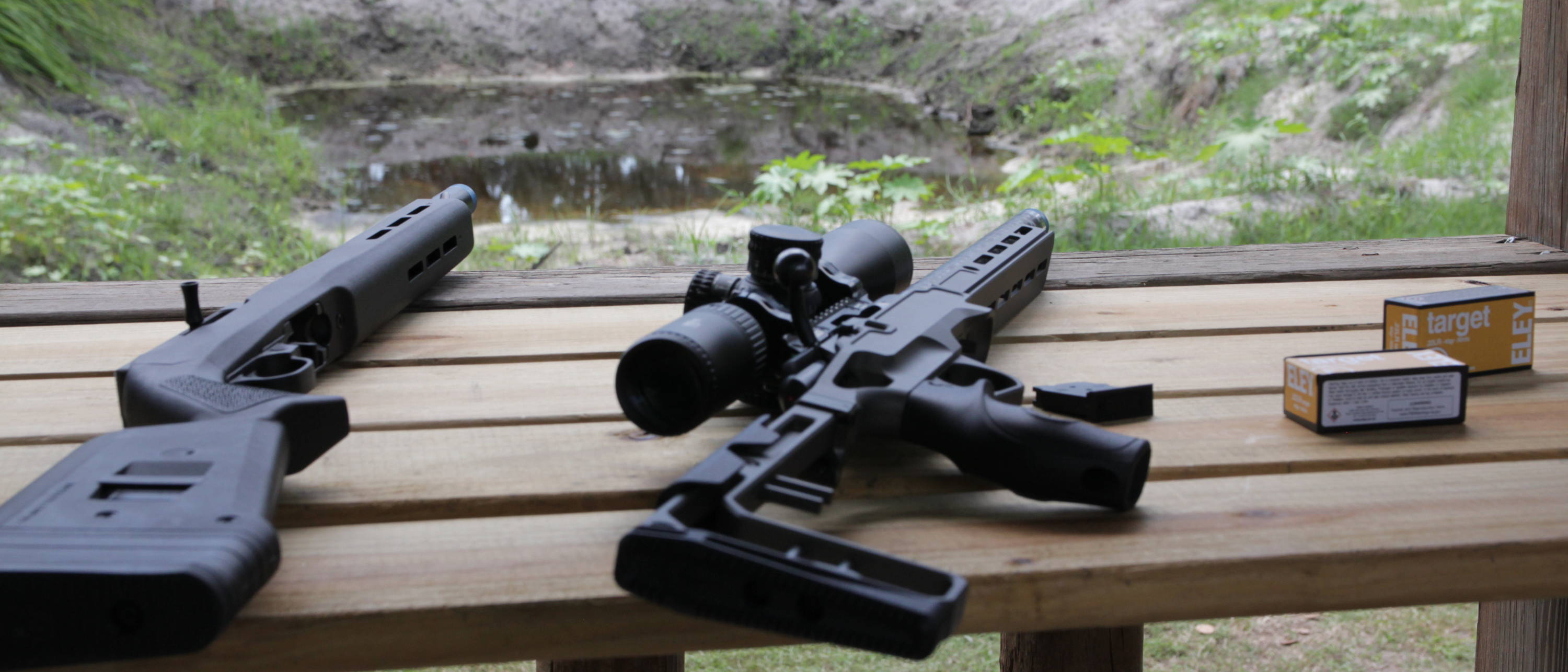 Choose your Hunter X-22 Stock Color: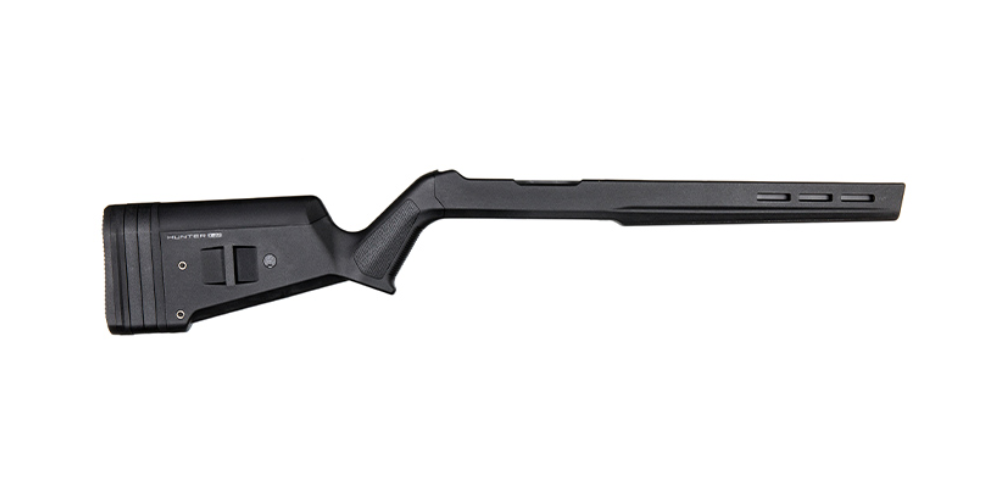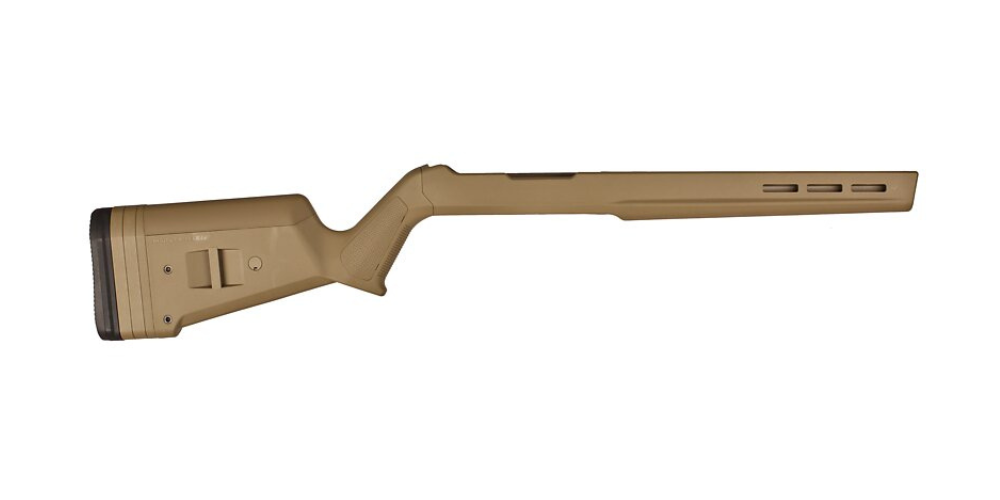 The Hunter comes in at a feathery 5lbs. with the carbon barrel or a meaty 6lbs. with the steel. Some guys like a little more junk up front (that's what she said). Whatever your preference, your forarms will still feel fresh after a full day trekking in the bush.
The Hunter platform can boast of its consistency because it uses our tried and true Fusion system. We thread the barrel directly into the receiver to create a union more stable than the peanut butter that sticks to the top of your mouth.
Sometimes it feels good to dress up a little. You know... be the belle of the ball. The beauty of the Hunter is that most 10/22® accessories fit just fine. So don't hesitate to mix n' match until you get your setup looking just right.
Weight: 5lbs Carbon // 6lbs Steel
Rifle Length: 33.5"-34.5"
Rifle Finish: Clear Hard Anodize
Barrel Material: Carbon Fiber or 416 Stainless Steel
Length of Pull Adjustments
Includes GBMFG Precision Bolt
Magwell Cutout for Easy Mag Changes
Integrated 20 MOA Fusion Receiver System
Stock Constructed with Reinforced Polymer
Compatible with Most 10/22® Accessories
PLEASE NOTE: Our chassis and receiver feature a clear hard anodized finish. These finishes are held to different aesthetic standards than parts finished in black anodizing or Cerakote. By buying this part, you understand that the color of this part may not exactly match what is visually shown on the website, and that the part may also differ in shade when matched with other parts of the same color/finish.
Our Hunter model is a close sibling to our LDR. The only difference is the tried and true Magpul Hunter® stock instead of our La Chassis system.
If you love that traditional feel to your rifle you'll love how the Hunter feels in your hands.
The Hunter maintains the light weight you'd expect from a Grey Birch rifle and because of the 20 MOA built into the reciever you're ready to dial in those long distance shots!
Solidly built and still ultralight

Fully adjustable to find your perfect fit

Rock solid reliability round after round after round

Beautiful fit and finish to make your range buddies jealous

Long distance precision & consistency like you've never experienced with semi-auto
The Hunter includes our Fusion Reciever System to ensure accuracy and consistency is maintained in this semi-auto platform.
We love this rifle and know you will too.